Tisa+snapback+caps
Just think of it like this, how hard would it be to fraud this? NObama's administration could whip one up in an hour the most.

While I personally don't doubt NObama is born in Hawaii, I doubt this will matter for one bit.

Who is NOBama? I looked up that name on Wikipedia but haven't found anything.
---
Chicago Bulls Snapback New Era
I think I'll still get the low-end Intel Tower in August/September, but I'm curious if the XEON 51xx chip could be replaced with a quad-core Intel chip.
---
la lakers tisa snapback
rezenclowd3
Aug 14, 11:31 PM
I enjoyed 4 quite a bit until it got into the super fast races. I have more fun racing a slightly tuned 350z instead of a completely modified GT that is putting 800+hp on the road.

I do agree there unless it is an F1 or LMP1 race ;-) Must be due to my gaming driving skill:rolleyes:
---
snapback hats tisa,
Damn PowerPC fans.

Apple is INTEL now. We Love Intel Because Stevie Tells Us So.
We hate AMD and IBM. Should Apple ever move to another CPU provider, we will seamlessly transition to hating Intel again. This is the Way of the Mac.

What's so good about G5's anyway? They are slow, too hot, and skull juice.
Why do we love Intel? Because Steve says to, and Core 2 Duo is powerful, cool, not permanently drunk, allows us to run Windows and helps Apple increase its market share.

We love ATi because just like Intel, their products are the best at the moment. We still love nVIDIA because their GPUs are in the Mac Pro.

We love Israel because they make our Core 2 Duos and we love China because they make our Macs. We love California because that's where Our Lord Stevie J is (Don't particularly care about the rest of the US, sorry guys).

We love our Big Cats because they run so fast and look so clean and powerful (Hmmm... Mystery of OS codenames revealed?) and of course because they are not Windows, which are susceptible to breaking...

People who live in Windows shouldn't throw Viruses?

Off track...

Anyway, Rawr to all you PowerPC fanboys (And girls)

Intel 4EVER!

...yeah whatever you say fanboy
---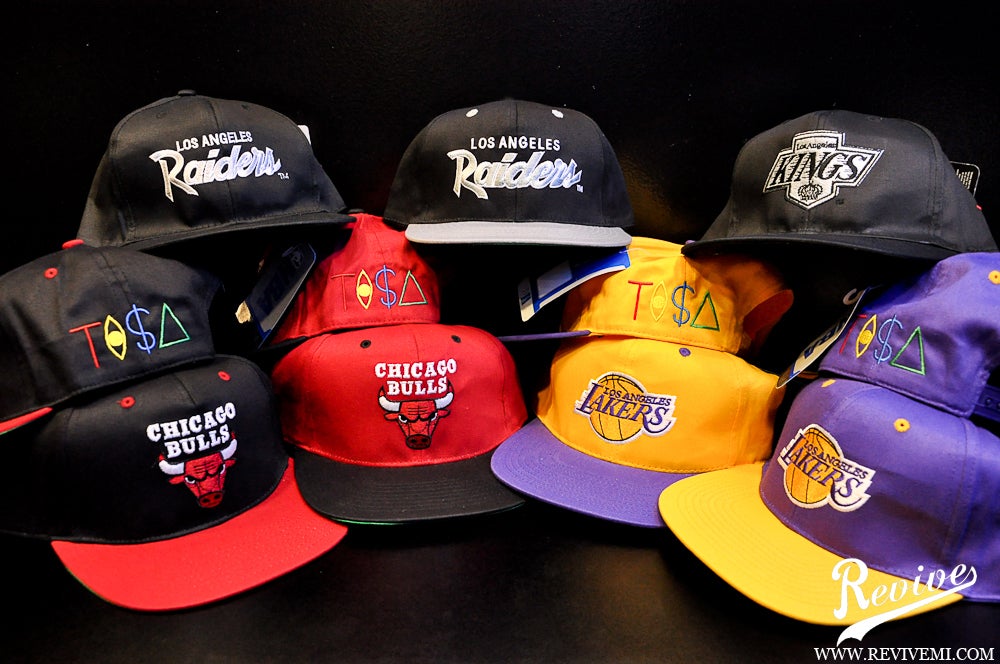 Mar find tisa snapback,
chrono1081
Apr 10, 08:08 AM
Anyone else call BS on that whole article?

First, off: Its poorly written. As soon as I saw the "The Apple fan-boys out there will say that..."

Really? Speculation on what Apple "fanyboys" will say? Sounds like Engadget forums.

Second: Didn't ANYONE realize this is all rumor and speculation? Not fact?

I used to come to Macrumors to read about Mac news, but now its all anit-apple crap.
---
Tisa snapback hats, make
Mattie Num Nums
Mar 31, 02:27 PM
The biggest advantage always given for Android over iOS is that it's "open source." Well, clearly that's not the case anymore. So, I can't think of any other reason to use Android over iOS, or even Windows 7. It looks like junk, and it's just a cheap ripoff of iOS.

Thats not at all what this article is saying. The Android project is still going to be "open source".
---
New Era Chicago Bulls snapback
Mac OS X Leopard
Introducing Vista 2.0

http://www.flickr.com/photo_zoom.gne?id=207241438&size=l

:D

B
---
TI$A snapback cap - new
fastlane1588
Jul 27, 12:19 PM
thats a pretty cool concept i must say
---
chicago bulls snapback red.
I was already pushing it to wait this long with my 3G. I don't think I can wait another 4 months+ from June.

When does the EVO 2 come out?

Not sure I believe the rumors, but as long as my 3G still works, I'll wait. $200 every 3 years is better than $200 every 2 years.
---
find tisa simple snapback
shrimpdesign
Aug 7, 11:56 PM
does anyone see a potential for a security breach with the ichat feature that lets you take over someone's desktop? (the purpose is of course to collaborate or to help them fix a problem)
I think it's an invitation .. like "Come share my screen with me" not "Let me use your screen"

So basically you have to allow your screen to be shared with someone you don't trust ... which is generally a bad idea anyways.

If there's a problem, you can always unplug the computer.
---
Ball Cap middot; chicago bulls
Digital Skunk
Mar 22, 12:52 PM
'nuff said (http://www.engadget.com/2011/03/22/samsung-galaxy-tab-8-9-and-new-galaxy-tab-10-1-thinner-than-the/).

Unfortunately you're so very right. Until it's in the hand and on the shelves it's vaporware.

And, like I've said many a times to everyone that brings this topic up:

Apple will be king until we see some viable apps that people flock to. The iOS environment is just too good.

Spoken from an Android fan here folks.
---
Mens original chicago
Thunderhawks
Apr 27, 08:32 AM
I'm glad they're fixing this "bug"

But their response is utter crap. They know it - and now everyone knows it.

As reports came out over a year ago about this - it's only after this tremendous bad press that they "found" it. Mhhhmmmm sure.

Even if one is "Apple friendly" when looking at this objectively that's a weak response.

Don't really care whether that is considered tracking or whatever word you want to find. Also, don't care if Apple upload or not!

When I turn something OFF, I need to be able to trust that it is OFF

Yes, we all have to realize we are constantly "logged" with IPs, cell towers,
EZ-pass etc. BUT there is no way they can make me believe this is a bug. We are almost at ios 5, so plenty of time to fix this.

It's a bad judgement on Apple's part, thinking that it doesn't cause any harm.

Well it does - to their reputation!
---
Tisa+snapback+caps
leumluath
Aug 11, 11:56 AM
isn't it about time you guys got in line with the rest of the world? GSM has more than 81% of the world market.

...the GSM providers' coverage area is inadequate. I need a phone that works most everywhere (in the US), not just along expressways and in major cities. Bad as it is, CDMA is the only practical option for those of us who travel.
---
for tisa snapback fashion
I've been wanting to say this for a very long time. Google's OS has no advantage over iOS. You could even say it has a disadvantage. Having to create a vanilla code base that needs to function on multiple pieces of hardware is complex, more complexity creates weaker system.

But here's my point. The ONLY ONLY reason why Android market share is anywhere near what it is today is because of the Buy One Get One options at most phone retailers. iOS has NEVER done that and hopefully never will. If you didn't care about the phone or service but needed two "Newer Smart Phones" one for you and one for your wife, why not go with the "Blah Blah" model from Verizon where if I buy one today I get the second for free (two year agreement and activation fees required).

Market share means nothing. This platform is doomed unless Google reins it in and get control over it. If they do, providers will be less willing to work with them, if they don't, by by Android.

My Two Cents.
-LanPhantom

Iphone are sold BOGO and even just free on contract over in other countries.

Android has quite a few advantages over iOS. And as it stands right now, android is still as "open" as it was 1 minutes before this article got posted

Nice try.
---
Chicago Bulls snapbacks,
... hmmm ... i just ordered a mac pro quad 3ghz ... 8 cores would be somehow nicer ;)
.a
---
chicago bulls snapback
Here's the official release notice from Sony.

http://blog.us.playstation.com/2010/11/12/gran-turismo-5-release-date-confirmed-for-november-24th-2010/

as well as the car list and the track list.

http://www.gran-turismo.com/local/jp/data1/products/gt5/carlist_en.html
http://www.gran-turismo.com/local/jp/data1/products/gt5/courselist_en.html

I'm disappointed the Bugatti Veyron is standard only, and not surprised there's no Porsches, since I believe the license to use Porsches are exclusive to EA, no other game from any company really has them. But, I am hoping that GT5 will be released on the 24th, for real this time, instead of being pushed back for the 40,000,001st time.
---
Tisa+snapbacks+ulls
8CoreWhore
Apr 10, 04:37 AM
As bad as it sounds for Apple to "boot out the others", Apple doesn't have the authority to do that. FCUG organizers chose to do it at Apple's request because they require the space and time. FCUG could have said no to Apple, but why would they? It's not a Canon Group, it's a FCU Group...
---
Tyga New Era x Tisa Snapback
The full article is very funny.



"It would be a nice idea. We have a negotiation coming up not too far. I don't see why we wouldn't do that... but maybe not in the same way," he told the Reuters Media Summit, when asked if Universal would negotiate a royalty fee for the iPod that would be similar to Microsoft's Zune.

"The Zune (deal) was an amazingly interesting exercise, to end up with a piece of technology," he added.


"It would be a nice idea" if I got money for nothing too! And why am I tempted to read "an amazingly interesting exercise" as an amazingly interesting exercise ... he added, dollar signs flashing in his eyes like some real-life Scrooge McDuck' ?

And to end up with "a piece of technology"! Yes! wow! hahahahah, I bet Microsoft were astounded about that too.

As the various parodies of such behaviour online indicates, the whole thing would be hilarious if it wasn't so ... true.

Pirates will pirate unless you give them a compelling reason not to. Legitimate customers will stay that way unless they feel piracy is an action they are ethically comfortable with. This kind of garbage makes that happen.

So for every iPod that would possibly hold a good couple of hundred Universal tracks amongst the thousands on there, I'd guess this kind of thing completely turns us nerds towards piracy rather than CD purchases/legitimate downloads. Is that $1 per iPod really going to make them as much money as the $xx they have lost on CDs and downloads? I'd guess not. Even if only 1% of people buying iPods pirate Universal tracks instead of buying them because of this deal (if it happens), it would be a loser for Universal. And of course the only people not financially at a loss because of it will be people who buy tracks, not the pirates who are back in the black as soon as they soak up the $1 surcharge by illegally downloading a Universal album as soon as they get their iPod.

If Apple did have the misfortune to be made to accept this kind of thing (unlikely right now I'd think, but you never know after a couple of ad-laden Zune-ar years), they should add the $1 to the price of the iPod so people ask "why does it cost $201?" and they should tell people on their web-site exactly why as well, providing details of how to get in touch with Universal to express their thanks.

Sorry if I've repeated any points already made... it's a Universally idiotic idea.
---
chicago bulls snapback
Yahoo! Leopard looks awesome! Time machine looks like a lifesaver for me and spaces makes life so much easier. THANKS STEVE!
---
Anyone ever check and see if Quicktime was Universal
if i'm not mistaken, it's been universal since osx for intel was released.
---
I wonder how "Time Machine" is implemented.


Probably the same way it is in scalable transactional databases that use multi-versioning concurrency protocols (e.g. PostgreSQL and Oracle). No data is over-written, and every "update" actually creates a new record version. The concept is virtually identical, except that in databases the default behavior is to delete old versions that no transaction is using any more. Such file systems are often implemented now as MVCC-style databases with file system semantics.

In fact, PostgreSQL used to have a feature many years ago called "time travel" that would let you query a consistent view of the database at any point in its past.
---
Doesn't affect me.Wouldn't purchase anything from BB unless it was a matter of life and death.They are scum.
---
lazyrighteye
Aug 11, 10:33 AM
*woot*
Please let it be good so I can trash my Treo.

My Treo is best smart phone I have used. That said, it's nowhere NEAR where I expect an Apple offering to be - when/if discussing integration.
Depending on what Apple unveils, I am very ready to cut my contract w/ VZW if it means a better user experience than what I am getting now.
---
Asset management is easy if you are organized. If you're not, no amount of asset management software can help you!

I 100% agree.

Using AVID at work was a steep learning curve for me, coming from a FCP background.

If anything asset management TELLS you how to manage your work rather than letting you do it how you wish to do it.... Organisation is key.
---