kitana mortal kombat 9
dethmaShine
Apr 19, 02:50 PM
I had a Casio Personal Diary in the late 80's that had the exact same grid.

Im not a troll either without Apple I wouldn't have a job.

Well, I am not saying apple invented the icon grid. :rolleyes:

I am specifically pointing to the post where you say iOS's icon grid copies PalmOS. Back-tracing?
---
Performing Mortal Kombat 9 2nd
Wirelessly posted (Mozilla/5.0 (iPhone; U; CPU iPhone OS 4_3_1 like Mac OS X; en-us) AppleWebKit/533.17.9 (KHTML, like Gecko) Version/5.0.2 Mobile/8G4 Safari/6533.18.5)

It is pretty incredible that the ignorance around Mac OS releases never stops. For one thing if you loose data on a computer, the only person to blame is the one staring at you in the mirror.

Even the whine about nothing worthwhile for the user is a bit old and reflects what we heard about SL. Yet SL on my early 2008 MBP was a drastic improvement for the user right out of the box and just got better with each update. User facing features are the only reason to update, fixes to underlying facilities can go a long way to justifying the software update.

As to the server integration, it hasn't and never will be a product worth $500. It is great that Apple is adding support to the base install but people need to realize a few things. One is that Mac OS is UNIX, people need to get that through their heads. Thus Apples server product only really adds in what is already seen in many UNIX intallations in a base install. Speaking of which much of that functionality is well established open source. Second the pricing of "server" software seems to be tailored to fit the mentality of the corporate world, where they feel they need to pay big bucks for something trivial. It is no wonder that Linux as established itself as a server OS in the SOHO world and at some of the more forward thinking larger corporations. As others have pointed out the basics of UNIX have been around for ages now, very little new territory is being cleared here, thus little justification for up charges on server software.

Finally it is a bit cowardly to avoid the future because you see nothing of value there for you personally. It is frightenly similar to the attitude seen in those that cut their own wrists.
---
mortal kombat 9 kitana model.
jettredmont
Apr 10, 05:47 PM
A bit of selective hearing on the part of MacRumors with the quotes they chose to use. At first the video sounds great, dude is hyping what he saw from Apple. But later he gets called out from another speculating Apple is making a very significant change and distancing Final Cut from the real 'pro' users, dumbing it down, etc, and the guy who has seen it gets real quiet.. He is asked if he will update his editing studio's workflow to the new Final Cut, and he basically danced around the question, pleaded the 5th, and made it pretty clear that he is holding back some reservations about how the industry will adapt to the changes.


I'm assuming you've never dealt with Apple, or probably any NDA situation. In "leaking" this information, I'm sure he thought very carefully about what he was going to say and how, in order to stay within his NDA and on the "good side" of Apple. He rehearsed that (I'm sure the quotes weren't summoned on the spot), and presented what he'd rehearsed. This approach makes sure you get the most cool information out there without stepping over bounds. However, it leaves nothing for Q&A, as you see here. No, he won't say he'll commit to a new FCP workflow because he's not sure if he should acknowledge any kind of new workflow. He can't talk about if the interface has been "dumbed down" because discussing that intelligently ("dumbing down" is not exactly a precisely defined term) would require going into details on the interface he was likely expressly forbidden from discussing.


Personally I'm very interested to see what they do, I'm sure it will have huge improvements on real time rendering and performance, sounds like the whole thing is being rewritten. But it does worry me that the program could become more for mass audience and no longer the pro application it has been for the past decade.

No sense in debating before it's revealed, but I'd welcome a few "mass audience" nods so long as they enhance existing workflows. The last couple releases have had several features which catered to the "mass audience" more than to the "FCP Expert" audience, and I think they've made a much stronger product. IMHO, what is needed here is really a deep-down codebase cleanout, but any interface improvements would be nice.
---
mortal kombat 9 kitana
What would I like to see at WWDC? For Jobs to say "we've taken a hard look at the labor practices of our Shanghai facility and what's happened to quality control since we started manufacturing our products in China and decided that enough is enough. We're moving our manufacturing to a variety of locales on the Pacific Rim -- mostly Taiwan and Malaysia -- and increasing prices 10 percent across the board to reflect the higher costs. We're sorry about the price hike, but Apple isn't Apple when it encourages slave labor and creates beautiful products that consistently fall apart."
---
mortal kombat 9 kitana model.
So Japan is getting GT5 on November 3rd too, but at least they get a nifty Titanium Blue console and Ltd Edition game bundle. (http://www.engadget.com/2010/08/18/ps3-gets-titanium-blue-makeover-for-gran-turismo-5-launch-bundle/)

http://www.blogcdn.com/www.engadget.com/media/2010/08/10x08189ub234tewfja.jpg

:apple:
---
▶Mortal Kombat 9 Kitana X-Ray
chrmjenkins
Mar 22, 06:09 PM
A government in power is responding against a rebellion.

If a rebellion sprang up in the United States, our government would respond with force as well.

"Slaughtering his own people" sounds a little propogandish to me. Are you saying that Qaddafi is taking people who have no connection to the rebellion at all and slaughtering them?

How can any government meet armed internal rebellion without qualifying as "slaughtering their own people"?

As others have pointed out, killing a peaceful protester (or non-involved innocent civilian for that matter) is never justified.
---
Mortal Kombat 9 quot;Kitana Story
littleman23408
Dec 6, 10:25 PM
IC-10 license test is killing me. I can only manage 2nd. I can get into 3rd pretty quick (at the hairpin before the long straight) and then I can't get 2nd until the same turn, and then there is just not enough race left to get past 1st. I can get kind of close to him, but nowhere near close enough to cut him off at the last turn.
---
mortal kombat 9 kitana
No it's not. It's basically what Mitt Romney put in place in Massachusetts. And he's a (gasp!) Republican!



And.... Having used German healthcare which can be supplemented with private insurance, I'll take it. My needed emergency room visit lasted a whopping 45 min because people could afford to go to a doctor in the morning and everyone was covered.
---
mortal kombat 9 kitana
You've got questions. We've got transistors.

I don't think any Radio Shack sales people know what a transistor is.

You got questions? We have cell phones.
---
En orden: 1 Liu Kang 2 Kung Lao 3 Johnny Cage 4 Reptile 5 Sub-Zero 6 Shang Tsung 7 Kitana 8 Jax 9 Mileena 10 Baraka 11 Scorpion 12 Rayden Mortal Kombat
In the words of Tony Montana...

"Shu know wha' Capitalism is? Ge' *********"

http://www.blknblu.com/voxart/lts/img/tony3.gif
---
kitana mortal kombat 9
peterdevries
Apr 27, 08:50 AM
Your type of apathy in the long term will do more harm than good.

There is a big difference between voluntarily and involuntarily giving out personal information and that's what was at stake here.

Apple admitted error - it's ok - you can admit it might not have been in the best interest of consumers too. Apple won't come and take your iPhone away.

Well said, but as Apple has already stated they are not collecting this information for other use than speeding up location. Considering the fact that cases against Apple are already underway, I trust the information they released today to be accurate. It would be foolish to mislead customers while proceedings have started.

Many people that cried outrage are actually ignoring more obvious privacy issues: twitter, foursquare and facebook status updates, and eg. the announcement today that TomTom actually actively sells location and speed data from drivers to the police, to aid in the strategic placement of speed cameras.
---
MK9 Kung Lao fatality
Actually, the merom in not completely compatible with the yonah chips. There will have to be some redesign on Apple's part that is supposed to delay the new MBPs. This article somewhat explains it:

http://blogs.zdnet.com/Apple/?p=249

I don't know that I buy that, especially considering they have no source, and people have already done merom swaps on shipping machines. If there is an issue, I'd guess it's only an issue in the soldered version.

As far as the 2nd optical slot goes, don't you think it's a pain to have only a single drive?

And especially when a second one probably adds less than $50-$75 to the system cost to the customer? (And extra profit potential for Apple?)

Not really. My last machine had two, and I rarely used both. I think most people in the market for two optical drives are probably going to want the full pro tower anyway, and there's not that much profit from the second slot since most people will add the drive themselves instead of from Apple.

MS will announce that they are dropping Mac development

But didn't MS sign a multiyear contract with apple committing to support?

I'm not sure why you're saying this price is way too low. The specs, so far as I can see, are quite similar to the current bottom-end iMac, which has an integrated screen, and it's price is only $300 more. It seems to me that this price is actually about right.

Also, I think that the name 'Mac' is a distinct possibility. Not saying I like it (or that I don't), or that it isn't simplistic, but I think that it's not unreasonable. FWIW, 'Mac Express' is nice, too, but I don't see Apple jumping on a name like that as quickly.

Maybe not way too low, but a bit low, especially when you compare specs to the $799 mini. The problem with MAC by itself as a name is that people will ask "what kind of mac" and the response is "Mac". It's a bad slapstick routine. It's like Ford selling a car called the Ford.
---
mortal kombat 9 kitana
Details found here :

http://www.h-online.com/open/news/item/Apple-removes-Samba-from-Mac-OS-X-10-7-Server-1215179.html

Gist of it :

- less features than Samba
- no more Active Directory Services
- Just file sharing now.

Samba developers have also noted that the true motive behind this move might not be the GPLv3 per say, but a more global move away from the GPL. Is Apple moving to close the source on more and more of OS X ?

Anyway, Samba v4 could have given them all the "features" they implemented and much more. Their own in-house version won't necessarily be better just because it's written by Apple. The Samba team does a great job with what Microsoft puts out as documentation (if you can even call it that).

Note that from the article, this change only impacts OS X Server. The client was already an in-house solution.

Although from my understanding from people using this today, the Apple implementation is dramatically faster than the Samba implementation. Just like WebKit started from KHTML and had fewer features than Mozilla, its ended up being the best browser engine out there. Leaner. Meaner. Faster. But it took time. Apple's SMB/CIFS implementation is going the same route. Now I've read elsewhere that it DOES support Active Directory. And elsewhere that it doesn't. The Preview version of Lion was 2 months old by the time devs got it, so its also possible that those reports are all just wrong in as far as what works and what is supposed to work (i.e. it may support AD, but bugs cause it not to work well or at all on some installs).


You will be foolish to wait around unless you want to get buried in the on-slaught of new and improved apps to take advantage of Lion from day one.

Exactly. I know of at least one major app right now that is going to go Lion only...


Windows manages to run legacy apps still. Even if you do have to resort to using the virtual machine they've called 'XP Mode.'

Fortunately, my one and only PPC program does indeed have an intel version that I wasn't aware of, so I'm fine.

You just gave the perfect answer. Using a VM. Run SL in a VM for Rosetta apps :)

It's needed for me.

Look, Rosetta isn't a part of OS X by default. If it is installed, then it is needed by the user, and thus isn't "crap." If the user doesn't need it, it won't be installed. For most users, it will be "cut out." I don't see why having the option there for people who need it stifles progress.

Actually its not a small piece. Its a big piece. EVERY OS X Library has to be provided in PowerPC code as well as x86. So Rosetta itself, by itself is tiny. But all the extra libraries that make up OS X is huge. And that's why its cut out.

In SL, it shipped with all the libraries, but not the Rosetta piece. So it was a simple install of just the Rosetta piece.
---
mortal kombat 9 kitana
Not really. Yorkfield is the 8 core follow on to Kentsfield in the Conroe class motherboard. Should be shipping by next Spring.

Next Spring??? Can you please point me to the source of that information.

I don't believe Intel can go to 8 core chip before going to a true 4 core instead of 2 dual cores on the MCM. That may have to wait till the process moves to 45nm and they have the Common System Interface worked out i.e. towards the end of 2007. This is all an educated guess on my part ... nothing concrete.
---
mortal kombat 9 kitana model.
PhantomPumpkin
Apr 27, 10:23 AM
Maybe that's what you heard.

I heard that the database couldn't be user purged (easily)
The the database kept data from Day one
and that Location services being turned off didn't change the recording of the data.

Apple fans were "more correct". Wow. Ok - if you say so.... and if it helps you sleep at night

I'm still confused how you think the "hype" was correct then.

Your points don't even support it.

As was said before, this was way overblown.
---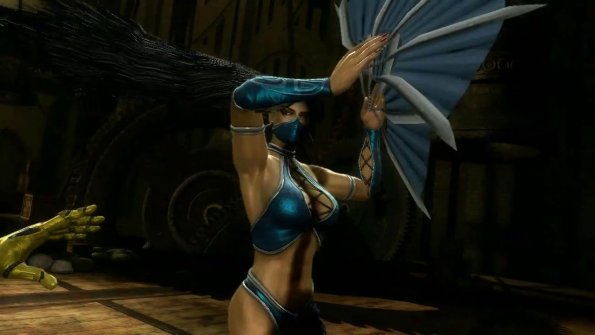 mortal kombat 9 kitana. mortal
Glideslope
Apr 19, 07:19 PM
Apple better not win this case and anyone who thinks that they should are a fool.

Well, count me in. After reading the complaint, it's rock solid. :apple:
---
mortal kombat 9 kitana cosplay
Can someone tell me in what Santa Rosa is all about and how much of a difference it is (as far as Merom is concerned) ??:)
---
mortal kombat 9 kitana
good catch - I still think it won't matter...But it would be impossibly risky to give the machines a name which might be disallowed.
---
Kitana
Tejasfilm
Sep 19, 09:26 AM
This being my first Mac I'd like to get the best possible machine possible. It's been a few years since I used a Mac, used them in college. I've gone full circle with PC's and hate the fact that I've lost countless data over the years and am ready for a great machine. My old Prof is thrilled at my new purchase, MBP 17", so I too have the September 26th delivery date. Crossing fingers for the Merom, I know I'd use the 64 bit processing for video editing and photo editing.
---
If the new Final Cut is 64-bit it will presumably rely on AV-kit.


folks said the same thing about FCS3 and Snow Leopard and yet as I recall that is exactly what they did.

I always felt the reason FCS3 came out just before SL was precisely because it wasn't 64-bit and was more of a maintenance release, whereas SL was touting Grand Central Dispatch etc etc...
---
Wow! Just about everything was bad ass! Time Machine seems awesome, so many times I have saved over a document and didn't have a back up. Now all I need is an external drive.

Were they serious when they said they were saving the best feature for later?
---
Lord Blackadder
Mar 22, 01:02 AM
I agree. The Democrats will, of course, push Obama for a second-term and thus our opposition candidates are all GOP, none of whom are serious contenders for improving our present situation.

Obama is far from perfect. But all of the known GOP contenders (Huckabee, Palin, Bachmann, Romney, Paul etc etc) are completely unacceptable.

If I read the Obama administration correctly, the US involvement will be very limited and while "advisors" are certainly on the ground

At this stage I doubt we have any boots on the ground. Communication with the opposition leadership is still patchy but they have made it clear they do not want foreign soldiers in-country. It will be best if the situation can be resolved without further foreign military intervention.
---
Yeah it's strange. I called them back. They
don't have anything in their system one way
or another but told me to stop in tomorrow and
they will check the system.

Store is on my way to work so I don't mind.
---
myemosoul,

What district/area is this?

I am in central NJ and counting on some
stores around here to get a few...hopefully.
---