Six Flags Thrill Rides
Time Machine: the attempts to say this was done before with VMS, System Restore or Shadow Copy are pathetic, and those who made the comparison should be ashamed of themselves. Of course it isn't a completely new idea: it's been something that people have wanted to do for years. As far as I can see, Apple is the company that first demonstrated a practical version of this feature that an ordinary person could use. I predict that Microsoft's implementation will be a complicated mess that regular users find opaque and will not use (just like System Restore is).


Er ... you right click on the file, select properties, and then just click on the previous versions tab.

MS has actually put it where most people expect to find it; I thought they might put it on the actual right-click menu, but I honestly don't think that it's going to get used enough for folk to want to have it in their face all the time.

Oh, and MS doesn't need a separate drive for it to work. If the Apple Time Machine ( :rolleyes: ) really does need a separate drive, then it sounds as if Apple has probably just skinned a version control system it pulled from the open source world.
---
Six Flags Great Adventure
rezenclowd3
Dec 9, 11:38 AM
Nuck, about the trigger travel: I am right. I wasn't asking about holding corner speed, and your tirade against me is very juvenile. When I pull just over 3/4 travel on the trigger, the in-game accelerator display is showing I am pulling full throttle. It was this way in Prologue as well.
---
Six Flags Magic Mountain
Why wouldn't Apple also just release a VZ iPhone 5 in June/July time frame also. It shouldn't matter that VZ was late to the party and only just now got the iPhone. Apple has made their money off the VZ folks that have been waiting forever for the iPhone, and then June/July Apple can make their money off the rest. I recently just got my iPhone 4 replaced for free by Apple due to a faulty sleep/wake button, so I'm more concerned with iOS 5, but I still want to see new Apple hardware soon!
---
six flags rides names. six
If the power consumption is the same... does that mean that the Merom and the current chips suck the same amount energy while going full throttle?

If the above is true, if you turned down the Merom to match the speed of the current chips, wouldn't the Merom be drawing 20% less power?

In other words if the Merom and the current chip were both going 60 mph down the freeway, would the Merom be drawing less power?

Am I missing something here (such as the basics of electricity, the basic way that chips work, etc.)?

512keThey'd draw the same power, but the Merom would be done faster at the same clock rate. So you use less power by taking less time to do your work. That and better power saving modes.
---
Six-Flags-Marine-World
craig jones
Sep 13, 01:10 PM
The OS takes advantage of the extra 4 cores already therefore its ahead of the technology curve, correct? Gee, no innovation here...please move along folks. :rolleyes:

As for using a Dell, sure they could've used that. Would Windows use the extra 4 cores? Highly doubtful. Microsoft has sketchy 64 bit support let alone dual core support; I'm not saying "impossible" but I haven't read jack squat about any version of Windows working well with quad cores. You think those fools (the same idiots who came up with Genuine Advantage) actually optimized their OS to run in an 8 core setup? Please pass along what you're smoking. :rolleyes:

How do you know these things? Is Windows' 64-bit support sketchier than OS X's? Of course not. OS X has little 64-bit support and none at all for Intel. Windows also supports far more than 2 or 4 cores (although there are license restrictions). Windows has run on far more than 8 cores for a long, long time. You realize they have an actual presence in the server market, don't you?
---
six flags rides pictures. six
Originally Posted by DocAlge
I am new to this (and still waiting to buy my first Mac). BUT why all this talk about speed and not about screen size.

I will buy a new Mac as soon as the new models arrive, but I could probably do with a MacBook - but I just think 13" is to small (my eyes are getting old). Does anyone think a 15" MacBook will be out anytime soon - or do I just have to pay the extra price for the MacBook Pro

I would go with a 13". I was really surprised how big it was when I saw it the first time.
---
The Six Flags New England
j_maddison
Jul 20, 11:53 AM
How fast do you want mail to go?

As fast as possible! Don't worry I do agree that e mail and browsing has very little to do with the processor speed, still you did ask the question! Now if only I could get a fibre link to my house without it costing a few hundred thousand Pounds a year hmm :rolleyes:
---
The ride is an Intamin
I use ProRes for almost everything, so this doesn't bother me.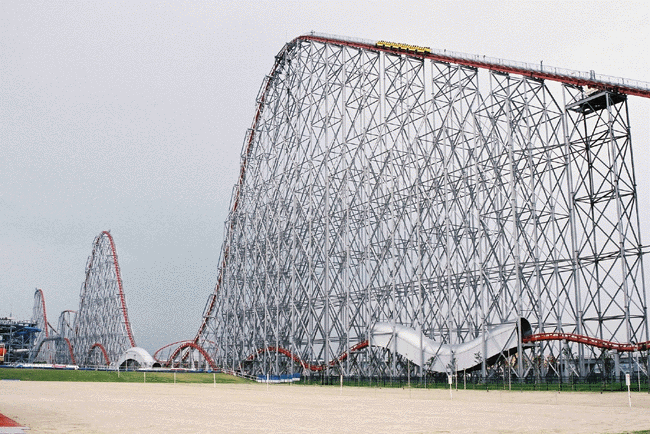 Photo by Six Flags Magic
macMan228
Mar 26, 08:34 AM
To my knowledge, all these features everyone is complaining about, can be disabled or just worked around, so whats the big deal?
Bring on the Lion, i can handle it :apple:
---
quot;Six Flags is always on
Apple Q3/09: 7 million devices and 17.1% marketshare
Apple Q3/10: 13.4 million devices (almost doubled!) but 16.7% marketshare.
Nokia Q3/09: 18 million devices and 44% marketshare
Nokia Q3/10: 29 million devices (+ 11 million!) but only 36% marketshare

So Apple sold 6.5 million more units but lost 0.4% marketshare.

Ya, right.

The iPhone is both gaining and losing market share, depending on what you mean by market share.

Do you mean what percentage of devices sold or what percentage of devices in use?

By the first measure, iPhone is slightly losing (by an amount that almost seems like it could be a statistical fluke -- it's basically flat) market share. By the other, it's still gaining market share (again by a pretty small amount).

And then, you get into comparing statistical reports from different sources. Lie, damned lies, and statistics, you know.

About the only certainty is it's debatable whether the iPhone is really losing market share and beyond that, whether Android is growing at the expense of the iPhone.
---
coaster,six flags america,
840quadra
Apr 25, 02:55 PM
I love how Media and most everyone was asleep about this known issue, until just recently, and now it is some kind of emergency.

I am not an Apple apologist by any means, but it is NOT their fault if people are not securely backing up, their personal and private data.

Apple's only fault (IMHO) is not encrypting the location logfile on the phone, or the system with regards to backups. Regardless, security of data is the end user's responsibility, not the manufacturer of their computer or software.
---
Six Flags Over Texas is near
acslater017
Mar 26, 02:07 PM
From the developer builds and such, there doesn't appear to be anything compelling or major to warrant anything more than a minor upgrade.

Yeah, disappearing scroll bars. A full size screen. Woo.

The UI and basic functionalities have stayed the same since Leopard, sprinkled with a bit of iOS features. Snow Leopard was a tune up, to establish the Intel line completely and such.

Yet retained most, if not all of the Leopard UI elements.

Personally, it just looks like a rough merge of iOS into the OS X environment without any refinement.

If we have to fork out $120 or something, forget it.

I guess my Leopard PowerPC Macs still look up to date then :)

New window management system, viewing options
New way to download, install and view apps (app store + launchpad)
New touch controls
New way to save and revise files
Various UI improvements
Dead simple wireless file sharing

Honestly, what were you imagining? Is apple not addressing every basic area of personal computing with Lion? Many of the changes are in mundane areas but are radically different...
---
Photo Courtesy of Six Flags
As was pointed out by a previous poster, iOS was developed for tablet use.

That's a common misreading of what Jobs said.

iOS was developed for the phone first, although its idea of using a touch UI was not.

As Jobs explained, there was a simple UI demo done on a touch device originally designed to be a keyboard input prototype. That demo gave him the idea to go all touch on the iPhone. That's what he meant by "the tablet came first".

Since we know that during summer/fall the first iPhone UI concepts were done using iPods with wheels, his touch "eureka" moment probably came in late with the UI demo almost certainly done under OSX.

According to all known histories, the actual creation of iOS didn't begin until 2006. Prior to that, some at Apple were still proposing using Linux for the phone OS.
---
six-flags-ride-3.jpg
leekohler
Apr 27, 09:31 AM
No matter what Obama does, these people are not going to be satisfied. They're absolutely insane. Trump should be ashamed of himself. I was once proud of the Trump Tower here in Chicago. Now I'd like to see it burned to the ground.
---
to at Six Flags Kentucky
I noticed that the HTC and Samsung cases only share just one patent: the bounce-back one.

And the Samsung adds many trademark and state law unfair competition claims.

Arguing that they're the same because Apple will lose them both is bootstrapping.
---
Six Flags Great America
oldwatery
Apr 19, 02:03 PM
Apple as Big Brother.
How ironic!
---
Superman Ride of Steel
Stridder44
Apr 10, 12:28 AM
Wirelessly posted (Mozilla/5.0 (iPhone; U; CPU iPhone OS 4_3_1 like Mac OS X; en-us) AppleWebKit/533.17.9 (KHTML, like Gecko) Version/5.0.2 Mobile/8G4 Safari/6533.18.5)

This should be interesting.
---
quot;Six Flags is always on the
We can argue in circles about whether GSM or CDMA is better. Each has its advantages. The fact remains that GSM networks are everywhere, including the US. CDMA networks exist on a tiny scale outside of the US.

UMTS uses W-CDMA anyway, so for that part of the technology, which is critical to the itunes store working, you'll get those much touted soft-handoffs. Only the voice part (assuming you're not in a VOIP connection) would go by the allegedly inferior GSM connection.

I'd bet a significant chunk of money that Apple makes a GSM version of any phone it produces, regardless of whether or not it does make a CDMA version.

P.S. no w-IDEN defenders? lolz.
---
six flags rides.
AhmedFaisal
Apr 29, 05:49 AM
Step out of your little fairytale world and realize that we've have the same issues with a white Barack Obama. If Hillary was in office, she'd be getting raked over the coals just as hard. Similarly, if Allen West was president he'd be getting viciously attacked by the left. It has nothing to do with race, and everything to do with policy. It has everything to do with reality. If tomorrow Barack Obama turned into a conservative constitutionalist aiming to reduce government involvement in our lives, reducing taxes, reducing deficits, etc. all these same 'RACISTS' as you so conveniently label them would be singing his praises.

Oh I see, and by questioning his birthplace you, Trump, Palin and your ilk are really criticizing his policies. Wow, again, you proved the old mantra, if you can't dazzle them with brilliance, baffle them with BS.
---
Is that real? PLEASE tell me that is real! :D Priceless.


According to AppleInsider (http://www.appleinsider.com/article.php?id=1942) there's another banner that reads "Mac OS X Leopard -- Hasta la Vista, Vista."
---
Samsung redesigned the 10.1 'just like that' did they? Wow, that's going to be one impressive piece of carefully considered and crafted engineering if they poured over it for such an extensive amount of time.... </sarcasm>

Seriously, either Samsung have pulled something incredible out of the bag or, more likely IMHO, this 'new' 10.1 wont be all that. They're certainly desperate to have a tablet success!

For a company the size of Samsung? - do not think it was a big deal.
---
Safari in Leopard-drag and drop tabs to reorganise, as with FireFox, and a My tabs features where you can save a set of tabs for easy recall later-like eg. IE7 on PC's.

Built in games-Chess, Puzzle on the Dashboard, new-a soltaire game similar to the iPos, Parachutes and mahjogg game. Classic Mac users may remember some Macs had a Eric's Solitare Sampler
---
Impossible.

Apple's no longer supposed to care about their Pro software.

This will never happen.

A lot of pros have already left Mac, but I have been holding out. However, this is the last straw. If the new FCP disappoints I will be jumping ship, buying a high-end PC and switching to Avid or Premiere. I just can't stand the frustrations anymore of watching every consumer itoy get upgraded, and then the Pro stuff getting shafted.

The time is now. The new FCP had better have something equivalent to Mercury Playback, optimization for RED footage, different HD codecs, real-time playback, 64 bit, multi-core usage, etc. If it's a dumbed-down consumer product I will be absolutely livid.
---
Dr.Gargoyle
Aug 11, 11:19 AM
Probably, But I think Christmass season would be better for sales. maybe they will launch end of October to take advantage of that.

I just hope it's true, I am so tired of my Verizon service and their crap phones.
I think europe might be the best place to introduce, considering europe is slightly ahead (at least in comparison to US) when it comes to cellphones. Moreover, I have gotten the impression that people over here change phones much more often than in US. Mot people I know get a phone at least once a year. A standard contract over here is for 12 months, but many people arent tied up by contracts.
Agreed. I can't imagine anyone getting "all excited" about a product that's a year or more off.
I wouldnt be surprised if the iPhone will be the one-more-thing at the Paris expo. In fact, I actually expect it considering the competion getting harder. mp3 cellphones at 4Gb and the upcoming MS iTMS/player should force Apple to act sooner than later.
---