sony ericsson xperia x10 white
DJsteveSD
Mar 31, 02:59 PM
you keep using that word� (http://cl.ly/0x032o272d2a3g1t1k3d)

lol
---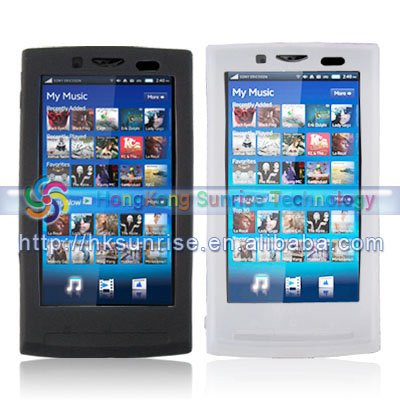 sony ericsson xperia x10 white
maelstromr
Apr 20, 10:34 AM
Where did i say I don't like how IP works buddy? Where in my post does it read 'don't like the way IP law works' ? Wipe your tears and try again... Don't make $#!t up.

the rest of your blurb about stuff in your head that I didn't event write isn't worth responding too...

My anecdote premise was pretty straight forward...
Two dudes who come from some place where they don't read tech feeds as often as the rest of us here... they go to a city shop and get sold phones that look like the ones they heard about...iPhones... the premise is not necessarily from the US... from any country on the planet where average Joes go to a tech shop to buy a smartphone... they look and feel and work in very similar ways which causes confusion.

P.S. The whole point of Apple's patent leverage is that they have... patented everything about their devices... form factor, processes, icons and interface... When you read deep into the context and content of Apple's submission which includes these comparisons and that Samsung copied everything and then applying a slight-of-hand to make it look a little different...
:rolleyes:

Like i say.. a bunch of Jawa's selling second hand Android's

So maybe I misunderstood your fist post...or your use of ":rolleyes:". If you think suggesting that people could not possibly confuse Samsung products with Apple products is silly, then we agree.

If I did misread, perhaps I should not have used your post as a quote - I stand by my point for all the other ridiculous claims that Samsung's products are not Apple clones or do not impact/infringe on Apple products/sales/market position.
---
Sony Ericsson XPERIA X10 White
gnasher729
Apr 27, 08:35 AM
A "bug" right? ;)

I thought they said that there was not any concerns?

There was never anything to worry about. However, paranoia strikes, everyone goes mad without any reason, so what is Apple supposed to do? Note that the same paranoia has been striking against Windows phones as well now (look at theregister.com), with dozens and dozens of clueless idiots complaining that Windows is even worse than Apple, or equally bad as Apple, or almost as bad as Apple, based on the fact that Windows is using the same crowd sourcing that Apple (and Google) uses, and a general misunderstanding of what is actually happening.

The only actual _real_ privacy problem that I have seen so far is that Google's database (they have a database of WiFi locations, just as Apple, Windows, Skyhook, and I think Nokia) is not secured enough and lets anyone get access to lookup the location of any WiFi base station (my home network is located within about 100 meters or about 20 homes; the centre of the circle is quite exactly where I live). Which means if for some reason you want to go into hiding, you better don't take your WiFi router with you. (People got all paranoid about the iPhone, but anyone trying to find you first has to find your iPhone, and usually that means they've found you as well, whether there is any data on the phone or not). This problem with Google's database affects _anyone_ with a WiFi router in the whole world, whether they have any phone or not.


How much is it costing me to send the data to apple so they can crowdsource locations for everyone? I doubt AT&T isn't counting this towards data use.

Apple sends this preferably over WiFi, in which case it costs you almost nothing. But you have benefits: Your GPS works immediately when turned on instead of taking up to several minutes (like the bloody TomTom in my car does, which is pretty annoying at times), and you can find yourself quite precisely on a map in the middle of London where GPS just doesn't work because of all the tall buildings; New Yorkers probably appreciate it just as much.
---
sony ericsson xperia x10 white
I think Apple will probably charge $79 for Lion and distribute it via the Mac App Store (at least as an option).

Same price as the iLife suite and smack dab in the middle of Leopard ($129) and Snow Leopard's pricing ($29). That'd be the sweet spot IMO.
---
Cover - White. Brand
You mean it's not an Apple? :eek: But it's ok for Apple to sue and Australian grocery store because they think the letter W looks like their logo? LMAO. Please.

I think this was because Woolworth (Australian supermarket giant) applied for a blanket trademark that allows it to apply it's logo on anything - especially competing electronic goods, computers, music players, and branded phones. (I'm not saying it's right, just surfacing some more details)

P.
---
sony ericsson xperia x10 white
The pre-release tests I saw reckoned Merom was about 25% faster with 7% longer battery life. Though they are pretty meaningless figures and we won't know until Merom is actually in a Macbook and a comparable test can be made.

I'd imagine there will be far bigger improvements to both with Santa Rosa and nand cache (which I presume Apple will support) than there is with Merom.

Check out the iMac benchmarks. The actual speed improvement (i.e., not the Intel hyped numbers) are much more modest.
---
sony ericsson xperia x10
Except Google have made it very clear with Honeycomb that they're not willing to release the source code for the foreseeable future so 'a bit' could be a lot longer than you'd think. More to the point that does manufacturers very little good. If, f'instance, Google decide to only release a version of Android as open source when they release the next version any manufacturer wanting to use it is going to have to grab the open version, make whatever tweaks they want, get it on a device, get it built in bulk and launch it into the relevant sales channel(s). By the time they do that Google is likely to have released another version of Android and they'll be hopelessly out of date.

Make no mistake about this, Google tightening up on the Android T&C's like this makes it almost impossible for anyone outside of Google's control to launch a device that really competes with the manufacturers who are on the inside track, at least from an OS point of view.

I was just pointing out that the code is still open, even if some have to wait longer than has been the case. I'm not saying everything is golden and Google are a paragon of virtue, this is certainly a bit of a sly move on their part.

I cannot help shake the feeling that some of the vitriol from certain people is the fear that a more coherent and unified Android ecosystem is an even bigger threat to the iOS platform.
---
sony ericsson xperia x10 white
and this got negative votes because...??????????

Yeesh!
---
Sony Ericsson XPERIA X10 Mini
Just called my local Radio Shack and left my information. They said they'd call me back at 12pm (CST) with a PIN number.

:D

I'm not eager to get the iPhone 4 on launch day. I just think the trade-in offer is pretty sweet. Sure, I could potentially get more $ for my 16GB 3GS, but I think the market will be saturated come June 24, plus it's much less of a hassle!

Unfortunately, I'm not eligible for fully subsidized pricing, so I'd be paying $400 for early upgrade. Doing the trade-in will bring me down to $200, so I'm fine with that!
---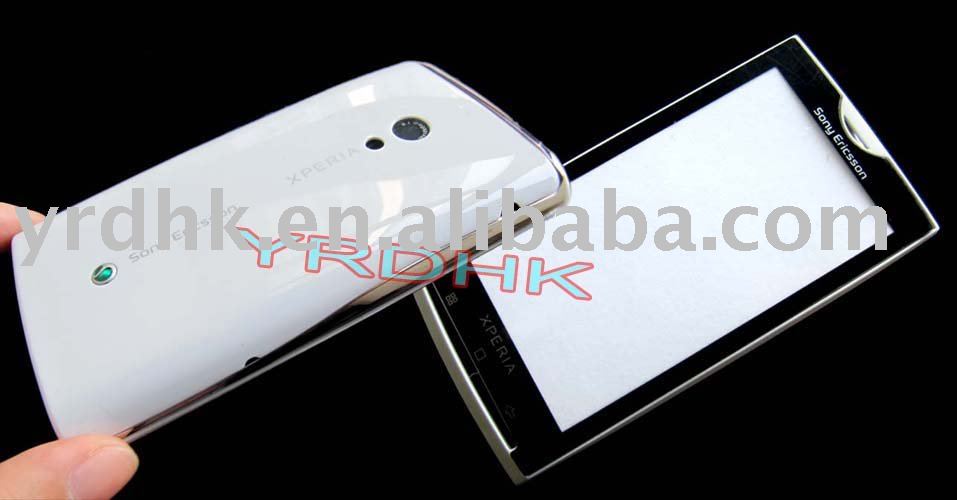 Sony Ericsson XPERIA X10
Wow, that's success that only a Ballmer could love.

Apple does need some competition. I hope these competitors focus on some of the Apple shortcomings like the religious adherence to the Cocoa Touch UI. Ideally there would be a more hybrid iOS/MacOS functionality in an iPad such that it could morph up to a more desktop like experience when docked. And conversely, it seems like MacBook Air/ Mac OS X Lion is getting a more iOS like feel. There's a middle ground there that Apple needs to get to. I suspect they will. But as with tethering, and allowing re-duplication of core apps by third parties, it will take Apple a while to let go here and allow the iPad to become that perfect combo.

They still seem to ultimately strike this balance better than any other vendor.
---
White Rogers Sony Ericsson
Please explain this. You'd buy an iPhone 5 with HSPA+, but not one with LTE ? Why ? Makes no sense at all.

Because if Apple release an iPhone 5 with LTE, it will cost more and won't be backwards compatible... right... :rolleyes:

Obviously not a factor.
1) I'm perfectly happy with the data speeds I get on AT&T 3G. I would guess the new 4G phones will suffer in battery life. I don't want to give up battery life for network speed I don't really need. If I had to choose I would choose battery life every time.

2) It's not the cost of the phone, its the cost of the data plan. I would guess it will be like the iPhone 3G launch where AT&T forced you into a 3G plan even if you didn't have 3G coverage in your area. Remember the original $20 iPhone unlimited data plan and how it went away when the new hardware was released?

3) I currently have unlimited data with AT&T which I would like to keep although I've never used > 1.5GB in a month. I doubt very seriously this will be an option with the new "4G" network plans.

4) I can wait for a "4G" phone until there is decent "4G" coverage.
---
Sony Ericsson XPERIA X10
Re-read the article.

It says there will be three available slots - 2 4x and 1 8x. These are the slots that will not be used by factory-bundled devices.

The bundled ATI X1800/X1900 video card will be in a 16x slot. It probably won't physically fit anywhere else!
4 slots. 3 unused. Not 3 total.

Most PCs don't have more slots, either. Sure you can find a few counter-examples, but 6-slot systems are not common. And with the exception of the PM 9500/9600, Apple has never shipped a 6-slot system. (The Quadra 950 had 5. Everything else shipped with 4 or less.)
You seem to think that a Pro system must have the capability of accepting every hardware device ever invented. (And how do you do this without making the case six feet tall?)

Dual video cards are only used by gamers. I doubt gamers are going to be interested in buying one of these, for the same reason they don't buy other Macs - the software comes out for other platforms first.

As for FC interfaces, they can work fine in any of the available slots. And there's no need for audio cards when you've got S/PDIF optical audio in/out.

Remember also that a studio won't be doing both video and audio editing on the same console! The people who are expert at one job are not going to be expert at the other. And if your studio is so strapped for cash that the different editors have to share a single computer, then you're in pretty sad shape!

I don't think you realize what you're asking for. A system that is capable of performing all possible tasks at once is just unrealistic. Nobody will ever equip a system like that, because no user will have those kinds of requirements.

Even in the PC world, where more slots are common, you almost never find a system that has actually filled all those slots with devices.

You're probably right about the slots, but I never said that it had to do everything at once. Just saying that it is my understanding that Apple is trying to make this a workstation (or at least that's what the rumor sites make it out to be) and it might as well have as much power as possible.

Also, as for the sound card, what about sound in? Some musicians might want MIDI in/out. I know, a lot of MIDI instruments come w/ USB now, but some musicians might want MIDI. Also, gamers aren't the only ones who might want/need to use 2+ graphics cards. What about CAD designers? Some of their stuff is pretty graphic intensive. Plus, since MacTels can run Windows, gamers might buy Macs, too. Just saying that some people might want this stuff, not necesarily everyone. To be honest, I don't care. Different strokes for different folks.

On a completely different note, I wonder what the Intel xServes will be like, along with new xServe RAIDs. If I read Apple's xServe RAID site, correctly, it uses ATA/100, not SATA. I wonder if/when Apple would upgrade? If I'm right (correct me if I'm wrong) SATA II has a max transfer rate of 3 Gb/s (or 750 MB/s), though I've also heard 300 MB/s. ATA/100's is 100 MB/s. Also, Western Digital's Raptor X is a 10,000 RPM drive and only has a SATA interface while all the ATA/100 drives I've seen are just 7200 RPM. People who need high bandwidth might want this.
---
Sony Ericsson Xperia X10
Ok, my predictions:
Leopard (iChat 4.0 ready to go for the iPhone)
Mac Pro
XServe (MacServe?)
new displays (iSights and probably IR. If I get my wish, S-Video and RCA in)

Paris: All about the iTunes and iPod ending with Steve saying available worldwide "except here." Possible iPhone here.

the other 4 Macs will be upgraded at some point going into Q1 with MBP and iMac getting Core 2 and MB and Minis getting the top Core Duos.
---
sony ericsson xperia x10 mini
If you were picking on Mail.app's Stationery I'd probably agree with you.

None of the things that Time Machine have been compared to seem even close to what they are planning to do. Including my own VMS file versioning analogies. System Restore is not capable of restoring a single file, and particularly not within a running application. It seems kind of more like a system wide undo function when it comes to files...

B

Norton's GoBack, which was purchased from some other company, has a similar feature for restoring single files. This isn't quite the same thing, but the whole concept isn't entirely new. GoBack was introduced well before Microsoft came out with System Restore... That said, I think its a great feature to include and I'm sure I'll find many uses for it.
---
launch of Sony Ericsson#39;s
predictions:

Leopard preview
Mac Pro (same enclosure)
New displays. Same enclosure, better specs.
Isight, smaller, stand alone. or BTO on displays
New large display 40"+
New Aiport xpress. Better range, wirelles music/video.
That's it
No ipods, no Ihome, no iphone.
iSight-Windows XP, Boot Camp support
Leopard-more built-in games-soltaire (something like Eric's Soltaire Sampler but with rich graphics) that outdo Vista's
---
Sony Ericsson Xperia X10 White
Interesting question, but I don't think any of us here will have the answers.

PCs don't use EFI. I don't know if a generic AGP/PCIe card can be initialized by EFI, or if the card will need some EFI code to be on-board.EFI can emulate BIOS though. It's basically what Boot Camp and the original Windows hack did.

As for OS X, I think we can be fairly certain that Apple will only bundle drivers for cards that Apple sells. If you install a third-party card, they will probably tell you that you'll need a driver from the card's manufacturer - that's what they've historically told customers.I've rarely noticed third party hardware that requires drivers. Most of them simply say "Requires OS 8.x, 9.x., 10.x". Of course newer things like 802.11g and USB 2.0 are going to need a version of OS X.



Now, assuming that the Mac firmware (including whatever EFI drivers they include in it) is capable of initializing a generic video card, then there should be no need for more than a device driver, which the card vendors can probably provide, if they are so inclined. If the cards will require special ROM code for EFI, however, then we're back to the same problem that plagued the PPC systems.You don't need a special ROM code for the auxiliary hardware. The video BIOS doesn't change when you boot between OS X and Windows.
---
sony ericsson xperia x10 white
So this was a bad time to order a 15.4" MacBook Pro 2.16Ghz, 100GB harddrive, 1GB ram with 256MB VRAM? :p
---
sony ericsson xperia x10 white
slackpacker
Apr 10, 07:56 AM
Are you speculating or have you just disobeyed your NDA? ;-)

speculating from what the video showed and a little past history industry knowledge
---
Sony Ericsson Xperia X10
zero2dash
Sep 13, 12:11 PM
How is this Apple "innovating"? Anandtech just put pre-release quad-core Intel-processor in to an Apple-computer. Apple itself had nothing to do with it. They could have used quad-core Dell-machine just as well.

The OS takes advantage of the extra 4 cores already therefore its ahead of the technology curve, correct? Gee, no innovation here...please move along folks. :rolleyes:

As for using a Dell, sure they could've used that. Would Windows use the extra 4 cores? Highly doubtful. Microsoft has sketchy 64 bit support let alone dual core support; I'm not saying "impossible" but I haven't read jack squat about any version of Windows working well with quad cores. You think those fools (the same idiots who came up with Genuine Advantage) actually optimized their OS to run in an 8 core setup? Please pass along what you're smoking. :rolleyes:
---
Dashcode-will be included, one banner shows some new icons. HDMI-for owners of Bravias and home theatre equipment (via a $29 adaptor for Mac Pro's and minis).
Canon-universal binary for its scanners and cameras.
---
ezekielrage_99
Aug 17, 02:01 AM
A lot of folks are waiting for game benchmarks...bring 'em on!

Yeah put up some World of Warcraft or Doom 3 results, that's what this is all about a Mac being the fastest gaming machine :cool:
---
gorgeousninja
Apr 20, 09:40 AM
Don't let a few cherry picked pictures trick you, most Galaxy models don't look at all like an iPhone :

http://www.rogers.com/cms/images/en/Wireless/CellPhoneDetail/Banners/banner01_i896blkr.png

This one can go either way. Of course the Apple biased media are cherry picking their pictures. I'd doubt you'd have a hard time telling both devices apart in the real world with both in front of you.

Especially consdiring the Samsung doesn't use the icon grid on its homescreen at all, contrary to what the pictures are trying to show.

http://cultofmac.cultofmaccom.netdna-cdn.com/wordpress/wp-content/uploads/2011/04/Screen-shot-2011-04-19-at-8.37.05-PM.png

feel free to point out how difficult it is to see any similarities...
---
I'm speaking about estimated Q1/11 to Q4/10 numbers (the est. Q1/11 numbers is what that news was about...). And what about reading the graphs I posted yourself? :rolleyes:

I like how you completely ignored the part of my post that proved your claim to be wrong. :rolleyes:
---
CPU isn't the only thing that changed. AMD 6750M (~30W) has higher TDP than NVidia GT 330M (~23W). I had to put ~ because their TDPs are not officially stated by AMD or NVidia so it's just based on previous GPUs and their TDPs. The point is that AMD 6750M has higher TDP.

330M is slightly underclocked, so that 23W would be a bit lower. However, the test where it was 40W higher was a CPU benchmark. It would have not stressed the GPU.



I guess we will have to wait and see, but an ULV in 13" would be more than a disappointment.

It would mean ~50% drop in frame rates for games.
---